The Magic of the Lumi Lumi: It's All About AfterGlow
As Pualani and Titus' father said, Lumi Lumi can be used for many things. It was not too long after the discovery of the Lumi Lumi that the Lumi Lumi Balls were conceived as a way of lighting pathways for guidance. (See the Chatham pathway below for a quick visual). After the initial Lumi Lumi investment the light provided by this unique product is entirely free! 10 minutes of Sunlight provides up to 10 hours of light; "It's All About the AfterGlow!"
To describe the genesis and development of the Lumi Lumi Balls, one must first understand that the Chatham home was in the mountains and that the walk from the parking space to the front door was over 30 yards down a grade on a winding trail. The home was off the grid and had only a small solar panel to produce electricity. On dark nights there was not a peep of light that would allow someone to safely walk to the house. The panel was not big enough to provide the luxury of lighting a trail. The hazards and likelihood of running into trees, bushes or even worse poison oak, was always present. The trail is now lined by Lumi Lumi Balls. Visitors and guests can now easily and safely traverse the trail. Everyone that sees the "LLBs" on the Chatham trail are fascinated and impressed with their glow and functionality. The Lumi Lumi Balls became the perfect pathfinder!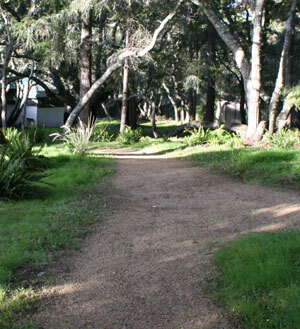 Chatham trail before Lumi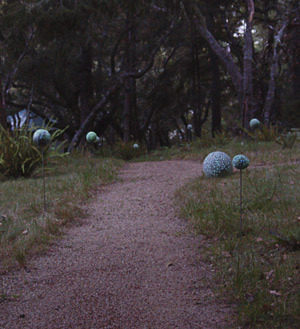 Chatham trail at dusk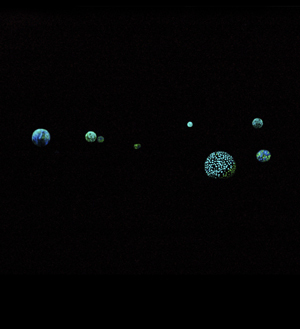 Lumi magic at night
It's Green:
Lumi Lumi Balls provide an element of Green too! Tom Ralston Concrete came up with the idea to fashion lightweight concrete balls using environmentally friendly Green Cement. The cement uses a green technology that recycles Carbon Dioxide into Calcium Carbonate which is then infused into our proprietary mix design for each and every ball. All of our balls are hand made by our employees at Tom Ralston Concrete.
Each ball is fashioned in different ways. Some of them can hang by arbors or tree branches and some of them are held by stainless steel stems that are stable after being easily pushed into the earth. The balls are also constructed with a lightweight insert to make them easier to be supported. So the Lumi is housed by a green cement that provides free light!
The Lumi Lumi Balls only need 10 minutes of sunlight, either direct or indirect to provide up to 10 hours of free glow.